You can select which windows programs to run during the boot-up. Sometimes you see such programs in the start up which we do not need at all and it just wastes the resources and increase the windows boot-up process. We will use "MSCONFIG" utility to disable the programs in the startup.
MSCONFIG
"msconfig" is a system utility which helps us to troubleshoot the windows startup process. With the help of "msconfig" we can change the windows boot options, disable or enable Windows services, software that runs at the startup. It also provides the ability of launch windows processes.
STEPS TO FOLLOW
Please follow the below steps to view which programs are enabled to run during the startup and then you can choose which programs to disable.
Open the Start menu and type msconfig in the search box and select msconfig utility.
On System configuration window, Click on Startup tab. You can notice the programs with the check mark enabled in the startup. In the picture, these programs are enabled during the startup; Google Update, Sophos AutoUpdate, QuickTime, iTunes, HP Software Update, Adobe reader and Acrobat Manager, WinZip.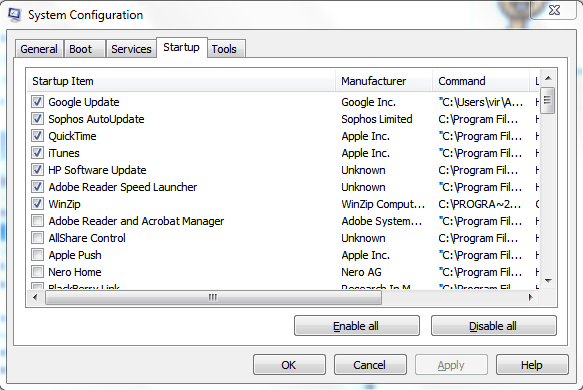 To prevent a program from the startup, uncheck the checkbox next to that programs you want to remove from the startup and click OK.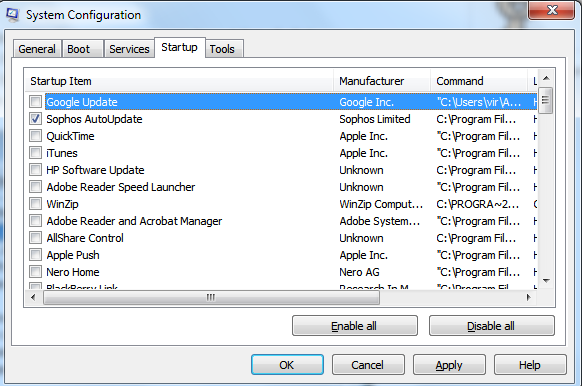 A dialog box appears which tells you need to restart the computer to apply the changes. Click on Restart.